www.satinfuntaboo.com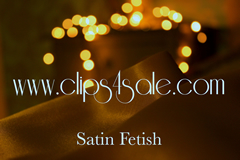 SatinFunTaboo is a site created for those who seek for the best of both worlds porn and satin. We want to give our viewers an experience like no other when it comes to mixing Amateur film, erotic fantasy sex and first of all a Satin fetish experience.
The site updates every month with new content focusing on passionate relationships with real couples, teens, milfs, taboo fantasies and more satin teasing.
There's an emphasis on teasing, 4play and a variety of outfits and themes, like satin nighties, satin dresses, casual and formal, satin lingerie, high heels, boots, gloves, skirts, blouses, kimonos, cheongsam dresses, and all sorts of satin outfits.
All videos are fantasy involving fictional characters and models are consenting unrelated adults.
+60 satinfuntaboo videos to stream in HD  
Downloadable videos every month at
www.clips4sale.com/59573 
We have a new security service for the site so If you have issues getting access after entering your username and password click back on "Videos". Sorry for the inconvenience, this small issue will be fixed soon. try Internet Explorer if the problem persists.
Coming soon
Most Recent Updates